OVERVIEW
The Covenant Canadian Reformed Teachers College (CCRTC) provides academic training and professional development programs that prepare students for a career in teaching at its member Reformed Christian schools.

Currently, CCRTC is seeking accreditation for its Diploma of Education (2 year) program.

WHY ACCREDITATION?

Currently students cannot receive distinctively Reformed post-secondary teachers training and be provincially recognized (B.Ed.), however, accreditation will make this possible!

This designation would give parents reassurance that their children are being taught by provincially certified teachers.

If accredited, this would enable graduates to receive a Bachelor of Education, as well as an Ontario Teaching Certificate. This degree would also be transferrable across Canada utilizing interprovincial agreements that are currently in place.

By taking an accredited CCRTC Diploma of Education program, the graduating teachers will raise their level of excellence and students at Reformed Christian schools will benefit from these skillful and talented teachers, all of whom originate from Reformed circles and families.
HOW TO DONATE:
Monthly Giving via Pre-authorized Payment (PAP)
Donate on-line via CanadaHelps: https://www.canadahelps.org/en/charities/the-canadian-reformed-teachers-college-association/ Please pick "OPTION B" for Accreditation

Donations by Mail: (Cheque) payable to "Covenant Canadian Reformed Teachers College" to the mailing address: (please indicate Accreditation on the "memo" line")




Covenant Canadian Reformed Teachers College




410 Crerar Drive




Hamilton, ON L9A 5K3

Contact by Phone: If you prefer to talk to someone about your options, contact Donna Van Huisstede, College Administrator, at 905-385-0634.
The accreditation application process can take two to three years, and it is possible accreditation will not be achieved. It is expected that the full $350,000 will be needed to cover all costs involved with the process even if the College is not successful.
In the event that there is excess money after an unsuccessful attempt, those funds will be used by the Board of Governors to either improve operation of the College or will be set aside for a possible future attempt at accreditation.
In the event that accreditation is obtained, but more funds were raised than were needed to achieve accreditation, the excess money will be held in a separate fund to maintain that accreditation, as there will be ongoing costs involved.
CHECK OUT THE PROGRESS (June 14, 2017)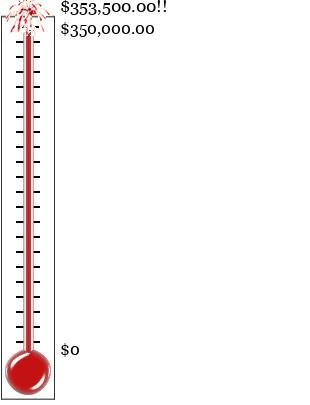 June 14, 2017 $353,500.00
May 18, 2017 $313,520.00
May 11, 2017 $304,194.00
May 4, 2017 $287,163.00
April 27, 2017 $274,033.00
April 20, 2017 $241,420.00
April 4, 2017 $188,975.00
March 23, 2017 $157,965.00
March 9, 2017 $134,495.00
February 28, 2017 $119,000.00
FAQ
1. What does accreditation actually mean?
For CCRTC it means that students who graduate will receive a Bachelor of Education (B.Ed.), a university level degree (as opposed to a diploma). Such students will then also be eligible for certification by the Ontario College of Teachers ("OCT") and thus obtain an Ontario Teaching Certificate.
2. Will the graduates of CCRTC be limited to teaching in Ontario?
No. As we now understand the regulations in other provinces in Canada, although teacher certification is a provincial matter, the revised Agreement on Internal Trade (AIT) signed by the federal, provincial and territorial governments makes it possible for professionals to move across the country. This includes teachers and we understand that teachers with a B.Ed and OTC generally are able to meet equivalency standards in the other provinces (perhaps with the exception of Quebec).
3. What does it mean for CCRTC to be "accredited" and to seek "accreditation"?
We seek accreditation for a program that meets the provincial standards for teacher education. The teaching program (courses, teaching standards, qualifications of the instructors and the like) and the organization (governance, policies, procedures, physical plant, financial capabilities) are carefully reviewed and measured against government and OCT standards and expectations of University level institutions and programs.
For CCRTC it means two steps:
a) First, obtaining Ministerial Consent to be granted by the Minister of Advanced Education and Skills Development (MAESD). This will make CCRTC an accredited degree-granting institution, able to grant a B.Ed. degree to students who have successfully completed the 2-year program; and subsequently
b) Obtaining accreditation by the Ontario College of Teachers (OCT) under the Ministry of Education.
Although a) and b) are distinct, there is a clear interdependence and both must be achieved for full accreditation for a Bachelor of Education program.
4. The Canadian Reformed Theological Seminary ("CRTS") is accredited. Is this different?
Yes, it is very different: First of all, the Seminary received its degree-granting status in 1981 when the Canadian Reformed Theological College Act was adopted by the Legislative Assembly of Ontario. Secondly, in 2011 the Seminary received its theological accreditation by the Commission on Accrediting of the Association of Theological Schools (ATS) in the United States. The Master of Divinity degree is approved by ATS.
In today's Ontario, we understand that it is not likely that an institution of higher education will obtain degree granting authority by legislature. Instead, new applications now fall under the Post-secondary Education Choice and Excellence Act, 2000 (PSECE Act).
5. So what is all involved for CCRTC?
Without going into all the details, here are the main steps:
a) Doing the groundwork – making both MAESD and OCT aware of CCRTC and its intent to submit an application for accreditation.
b) Seeking support from stakeholders and elected representatives.
c) Preparing and submitting the application (all 1000+ pages!) detailing the CCRTC's organization and program.
d) Getting the MAESD Minister's Office to move the application forward for review by an arm's length Review Board (Post-secondary Education Quality Assessment Board or "PEQAB").
e) PEQAB review of the application, followed by two site reviews (organization and program).
f) Awaiting the PEQAB recommendation and the Minister's initial response.
g) If the Minister of MAESD grants consent, prepare and submit an application for OCT, which would include a site review (program) by OCT.
h) Await OCT's recommendation and the Minister's final decision.
6. What about a timeline for all of this?
Given the complexity of the process the timeline is very fluid. The word "patience" is commonly used in all conversations. Based on precedent, it can take anywhere from 2-3 years once the application has been submitted.
7. Is accreditation guaranteed?
No.
Although the guidelines supplied by the two Ministries are very clear, and the College has done much work to place itself in a favourable position, a final positive outcome is not guaranteed.
Regardless whether it is positive or negative, the outcome will give direction for either a renewal of consent in the future (every 5 years) or a second attempt at accreditation once insufficiencies have been met.
8. It appears the costs are quite high. Why is this?
The two Ministries each charge their own application fees, and each require their own independent review process (including site visits) for which the costs are borne by the applicant.
Although there are many volunteers that work at completing the accreditation documentation, CCRTC will need to hire additional administrative personnel to prepare, edit, collate and complete the application (both in paper and electronic formats).
Lastly, to navigate the Ministry waters and meet the various requirements, the CCRTC has retained a government relations firm and will also seek advice from other experts in this area.
The biggest unknown factor is the actual timeframe, and thus the need to maintain staff and personnel dedicated to the project, and the Board has set the campaign target in anticipation of this.
9. The Accreditation Fundraising Campaign is seeking $ 350,000. How will this money be used?

10. So what can I do?
Pray for Covenant Canadian Reformed Teachers College and for the work it does in preparing teachers for Reformed Christian Schools.
Donate regularly to ensure the CCRTC can meet its operating budget.
Pray for the process of seeking full accreditation so that CCRTC may be a blessing to

all

Reformed Christian schools as it trains teachers to meet the needs of these schools.
Give liberally to the Accreditation Campaign to support and sustain the accreditation process: Consider your contribution as a faith motivated investment in CCRTC and its future graduates!