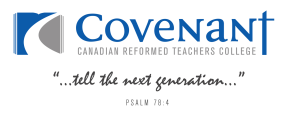 The vision of the Board of Covenant Canadian Reformed Teachers College (CCRTC) is to be the definitive source for Reformed teacher training, and includes planning for succession, distance education, and in-service support. To this end, and in anticipation of pending retirement of current faculty members over the next several years, we are looking to expand the full-time instructional team for the 2018-2019 academic year and beyond, and will entertain possibilities even for 2017-2018.
If you are interested in exploring joining the faculty as a FULL TIME FACULTY MEMBER we invite you to contact us as soon as possible to discuss options and possibilities.
Persons interested in this position will, among other things, demonstrate a deep love for Reformed education, be willing to provide educational leadership at multiple levels, and display a healthy level of intellectual curiosity within biblical bounds (Prov. 1 : 5).
Candidates will be communicant members in good standing of a Canadian Reformed Church, or of a church with whom we maintain ecclesiastical fellowship, will hold at least a Masters Degree preferably in the area of education, and will have teaching experience in either, or both, elementary or secondary school settings. Support in the completion of post-graduate studies is open to discussion.
For additional information, contact Dr. Christine van Halen-Faber, Principal,
at (905) 385-0634 or at cvanhalen@covenantteacherscollege.com
---
AMBASSADORS CHRISTIAN SCHOOL - ottawa, Ontario
Be an Ambassador!
Ambassadors Christian School is planning its 7th year! We are looking for educators who are as passionate and excited about our calling to give our children a Christian education as we are. Ambassadors Christian School will be educating approximately 26 Christian citizens of the Kingdom next year with many more to follow in their footsteps. Our team of teachers currently teach mixed grades and enjoy the support of many dedicated classroom volunteers. You will be given a sense of purpose and direction by helping to establish Reformed Education in the nation's capital and by using your faith as a tool to co-pioneer this awesome Kingdom project.
If relationships and collaboration are your things and you are not afraid to get dirty and have fun while doing it, then you are exactly the right person to apply for the following position:
Full-time or Part-time Teacher
The candidate will have a Bachelor's Degree or a teacher's certificate. Preference will be given to candidates able to teach French.
All successful candidates are individuals who:
openly witness a personal commitment to Christ as Lord and Saviour

use their faith daily as a tool to make godly decisions and display the "fruit of the Spirit."

can articulate a depth of understanding of the biblical and philosophical foundations of Reformed Christian education

demonstrate a passion and commitment to their career in education and understand it as their calling

enjoy leadership, are professional, experienced, organized, thoughtful, enthusiastic, collaborative, visionary, community-minded
Duties to commence July 1, 2017. Letters of application should include:
a resume

a personalized statement of faith

a letter describing your view and passion for reformed education

two letters of reference
For more information, please contact:
Board Chair:
Carrie Vanderveen
Phone: 613-400-7296
Email: cvanderveen@ambassadorschristianschool.ca
Principal:
Rob Helder
Phone: 289-698-2246
Email: principal@ambassadorschristianschool.ca
---
A.C.R.E.S. - attercliffe, ontario
The Board of Attercliffe Canadian Reformed Elementary School in Attercliffe, Ontario invites applications for the position of JUNIOR GRADE TEACHER. We seek to fill one vacancy for the 2017-2018 school year. Strength in music and French would be an asset. Candidates interested in any grade from grade 1 - 8 are encouraged to apply.
Please direct your application to:
The Education Committee
A.C.R.E.S. 85785 Canborough Rd. RR#1 Dunnville ON, N1A 2W1.
Applications should include along with a resume, a statement of faith, your view of Reformed education and two letters of reference.
For further information, contact:
The Chairman of the Education Committee
Mr. John VanderHoeven
905-774-3139
The Principal
Mr. Edward Slaa
905-774-9009
---
COVENANT CANADIAN REFORMED SCHOOL - NEERLANDIA, ALBERTA
The Board of Covenant Canadian Reformed School invites applications for the 2017/2018 school year for the following full-time positions:
High School Teacher
And
Elementary School Teacher
Covenant Canadian Reformed School (CCRS) is a vibrant K-12 school community with a current student population of 242. We are situated three km from the hamlet of Neerlandia and approximately 25 km north of the Town of Barrhead. Between these two locations there are three Canadian Reformed congregations and one United Reformed congregation. CCRS is located about an hour and a half north of the cities of Edmonton and St. Albert. We anticipate growth over the next number of years and are currently planning for future expansion.
We encourage energetic, qualified (or soon to be qualified) educators, committed to Reformed education, to apply. Specifically we are looking for candidates who are communicant members of a Canadian Reformed Church or of a Church with which it has ecclesiastical fellowship.
Under our Father's blessing of a broad, highly supportive membership base and current levels of government funding in Alberta, we are able to offer a very attractive wage and benefit package. All interested individuals can apply by submitting a resume, a statement of faith, a philosophy of education, and references.
Please visit our school's website at www.covenantschool.ca
Applications can be sent in writing to
3030 TWP RD 615A
County of Barrhead, AB T0G 1R2
or to the Board secretary, Mrs. Karen Breukelman: secretary@covenantschool.ca
If you would like further information about the school and the area please contact the Board chairman:
Mr. Wes Werkman – 780-674-2814
chairman@covenantschool.ca
or the principal:
Mr. Mike Nederveen – 780-674-4774 (school)
principal@covenantschool.ca
---
DUFFERIN AREA CHRISTIAN SCHOOL, AMARANTH, ONTARIO
Dufferin Area Christian School invites applications for the following positions for the 2017 - 2018 school year:
ELEMENTARY GRADE TEACHER (Maternity position)
If you are able and would like to help in educating covenant children at DACS, please send your letter of application and resume to the principal, Mr. Jelko Oosterhof (519-941-4368 or principal@dacslaurel.ca) or Mr. J. Grant Kottelenberg, Board Chairman (519-928-9801 or j.grant.kott@gmail.com)
---
DUFFERIN CHRISTIAN SCHOOL, CARMAN, MANITOBA
"…for living a life of Christian discipleship

in contemporary society

"
Invites applications for TWO Full-Time current openings at the
Elementary Level (Middle Years)
Duties to commence August 1, 2017
DCS is able to apply for Limited Teacher Permits for those who have the three-year CCRTC Teachers College diploma or for those who have a Bachelors Degree (or a degree and a CCRTC certificate).
If you've always wanted to be a teacher, why not send us a note and we can explore options together.
DCS is a growing K-12 Reformed school with 220 students with an anticipated increase in enrollment of 20% over the next four years. We have a collaborative staff with a strong mentorship program for new teachers.
Applicants must be communicant members of a Canadian Reformed Church or a Church with whom these churches have ecclesiastical fellowship (URCNA, OPC, RCUS, FRCA, etc.),
Candidate must be committed to the school's mission statement.
Applications should be sent to
Dufferin Christian School
Box 1450
Carman, MB, Canada R0G 0J0
Attention: Mr. Chris deBoer
OR EMAILED TO: principal@dufferinchristian.ca
For more information, please contact
Principal: Mr. Chris deBoer principal@dufferinchristian.ca / 204-745-2278
Chairman: Mr. Harwin Bouwman harwinb@live.com
Website www.dufferinchristian.ca
---
ebenezer canadian reformed school - smithers, british columbia
We give thanks to God that we have filled one of our advertised high school positions. However due to expansion and a departing staff member the Board of the Ebenezer Canadian Reformed School (ECRS) invites expressions of interest and applications for the 2017-2018 school year for:
A full-time high school position
Two full-time elementary positions
A kindergarten teacher (half-time)
The successful high school applicant will be teaching humanities and social sciences. For the elementary positions we welcome enquiries for both primary and upper elementary. The kindergarten position is a half time position.
Applicants need to be professed members in good standing of a Canadian Reformed Church, United Reformed Church, or sister church. They must have or be able to obtain a BC teaching certificate. We can help with that process.
If you are qualified and interested but not sure about teaching in Smithers, contact us to discuss arranging a complimentary flight from anywhere in Canada.
If you have questions please call or email the principal, Derek Stoffels, at work: (250) 847-3492; principal@ebenezerschool.com.
To apply please email your application to the principal.
Check http://www.smithers.ca/ or http://www.tourismsmithers.com/for information on the community the school is located in.
"Assisting parents in equipping our children... to function as prophets, priests, and kings in this world."
EMMANUEL CHRISTIAN HIGH SCHOOL - FERGUS, ONTARIO
Due to retirement
EMMANUEL CHRISTIAN HIGH SCHOOL
Located in Fergus, ON
invites applications for
PRINCIPAL
Starting August 2018
Emmanuel has a current student body of 187 students in grades 9 through 12. We are enjoying a wonderful functional facility since September 2016, located in a picturesque southern Ontario town. Our covenantal school has excellent working relationships among board, staff, principal and society. Our school draws from up to 9 different congregations representing a mix of urban and rural settings.
We encourage energetic, qualified educators who are committed to reformed education and who are members in good standing of a Canadian Reformed Church or of any church with whom we have ecclesiastical fellowship, to apply for this position.
Applicants are heartily encouraged to submit an application, a philosophy of education and references.
Application deadline: November 30, 2017.
Additional information can be obtained by contacting the Education Committee Chair: Chris Niezen, gbs1@bellnet.ca
519-780-0400(work); 519-362-0367 (cell)
or Board Chairman: Ken Swaving, ks@walinga.com
Applications to be addressed to:
Emmanuel Christian High School
c/o Principal Search Committee
680 Tower St. S.
Fergus, ON N1M 0B1
---
GUIDO DES bReS CHRISTIAN HIGH SCHOOL, HAMILTON, ON
2018/2019 Principal Position
The Board of Guido De Brès Christian High School is looking for an individual with proven leadership skills, a Reformed Christian worldview, excellent interpersonal skills and a vision for 21st century educational needs.
Guido De Brès Christian High School:
Has a growing student body of 410 students from Grades 9 – 12

Two experienced Vice-Principals (Academic & Student Services)

A professional staff of 40 individuals.

Offers a full secondary program to allow students to earn the necessary requirements for all post-secondary institutions.

Learning assistance and special education is available for students in all grades.

Variety of student extra-curricular activities including Art, Drama, Robotics Club, Outdoors Club, Orchestra, Drama and numerous sports teams.

An enthusiastic Student Leadership Team.

Is operating in the 2017/2018 school year with three Vice-Principals sharing the leadership role.
The ideal candidate must be a professed member in good standing of a Canadian Reformed Church, United Reformed Church or sister church. Qualified applicants are encouraged to submit their resume, philosophy of education, statement of faith and two letters of reference by October, 16, 2017.
If you are interested in this exciting opportunity, have any questions or would like further information you are encouraged to contact either the Board Chair, David Kampen at david@edengrove.ca or the Secretary of the Search Committee, Hilda Tiggelaar by email at hilda.tiggelaar@gmail.co
---
HERITAGE CHRISTIAN SCHOOL, JORDAN STATION, ON
invites applications for the following full-time
teaching positions for the 2017/2018 academic year:
Elementary French Specialist Teacher
Elementary Teacher- Primary
Secondary French & Math Teacher
as well as a part-time Elementary Teacher- Primary
HCS
in the heart of Ontario's beautiful Niagara Peninsula

a student body of 630 students from K to 12

a dedicated and supportive Reformed Christian community

a cohesive, professional faculty and staff of 60 persons

beautiful, modern facilities, recently expanded and renovated

We seek
Qualified applicants who seek to serve Jesus Christ in the area of Christian education and who submit to Holy Scripture as confessed in the Reformed creeds

Committed professionals who positively lead students to a life of dedicated service to our Lord

Enthusiastic, dedicated rookies or seasoned veterans looking for a positive change

How to join us
submit a résumé, with a statement of your philosophy of education, a statement of faith, and references, including one from your current pastor
Please forward inquiries and/or applications to:
Mr. Brian C Bosch, Principal
Heritage Christian School
2850 Fourth Avenue, Box 400
Jordan Station, Ontario, Canada L0R 1S0
Phone (905) 562-7303
Fax (905) 562-0020
Email: principal@hcsjordan.ca
Website: www.hcsjordan.ca
"Behold, children are a heritage from the Lord." Ps. 127:3
April 4, 2017
---
providence refORmed collegiate, komoka, ontario
invites applications for definite and potential openings in 2017-18 for
SCIENCE, MATH, AND ENGLISH TEACHERS
Providence is a vibrant Christian high school in Komoka, serving 100 students from Reformed communities across southwestern Ontario. We are currently expanding our facilities to meet the needs of our varied program and projected growth in enrolment. Our faculty of eleven teachers form a creative and collaborative team.
If you are an experienced teacher ready for a change or enthusiastic new teacher, we encourage you to apply. Successful applicants will be able to articulate a strong vision for covenantal Christian education and provide evidence of competent teaching.
Please submit a cover letter, résumé, statement of faith, philosophy of education, and letters of reference (including one from your pastor or elder). Please direct inquiries and/or applications to:
Mr. Mike Vander Deen, Principal
Providence Reformed Collegiate
93 Queen Street
Komoka, ON N0L 1R0
P: 519-471-0661
F: 519-471-7632
mvanderdeen@providencerc.com
---
timothy christian school - hamilton, ontario
The Board of the Canadian Reformed School Society, Hamilton, Ontario operating the Timothy Christian School invites applications from qualified teachers to fill possible teaching positions.
Duties to commence August 1, 2017.
Letters of application should include a resume, a statement of faith, your view of Reformed education and two letters of references.
Timothy School will accommodate the needs of people with disabilities in our hiring process
For more information, please contact the Principal, Michael Noot
Phone School: 905-385-3953
Fax: 905 385 8073 Email: mnoot@timothyschool.org
Please send your applications to:
The Human Resource Committee
c/o Timothy Christian School
430 East 25th St.
Hamilton ON L8V 3B4 Or email it to: hrc@timothyschool.org
---