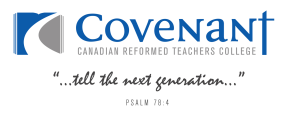 The vision of the Board of Covenant Canadian Reformed Teachers College (CCRTC) is to be the definitive source for Reformed teacher training, and includes planning for succession, distance education, and in-service support. To this end, and in anticipation of pending retirement of current faculty members over the next several years, we are looking to expand the full-time instructional team for the 2018-2019 academic year and beyond, and will entertain possibilities even for 2017-2018.
If you are interested in exploring joining the faculty as a FULL TIME FACULTY MEMBER we invite you to contact us as soon as possible to discuss options and possibilities.
Persons interested in this position will, among other things, demonstrate a deep love for Reformed education, be willing to provide educational leadership at multiple levels, and display a healthy level of intellectual curiosity within biblical bounds (Prov. 1 : 5).
Candidates will be communicant members in good standing of a Canadian Reformed Church, or of a church with whom we maintain ecclesiastical fellowship, will hold at least a Masters Degree preferably in the area of education, and will have teaching experience in either, or both, elementary or secondary school settings. Support in the completion of post-graduate studies is open to discussion.
For additional information, contact Dr. Christine van Halen-Faber, Principal,
at (905) 385-0634 or at cvanhalen@covenantteacherscollege.com
---
EMMANUEL CHRISTIAN HIGH SCHOOL - FERGUS, ONTARIO
Due to retirement
EMMANUEL CHRISTIAN HIGH SCHOOL
Located in Fergus, ON
invites applications for
PRINCIPAL
Starting August 2018
Emmanuel has a current student body of 187 students in grades 9 through 12. We are enjoying a wonderful functional facility since September 2016, located in a picturesque southern Ontario town. Our covenantal school has excellent working relationships among board, staff, principal and society. Our school draws from up to 9 different congregations representing a mix of urban and rural settings.
We encourage energetic, qualified educators who are committed to reformed education and who are members in good standing of a Canadian Reformed Church or of any church with whom we have ecclesiastical fellowship, to apply for this position.
Applicants are heartily encouraged to submit an application, a philosophy of education and references.
Application deadline: November 30, 2017.
Additional information can be obtained by contacting the Education Committee Chair: Chris Niezen, gbs1@bellnet.ca
519-780-0400(work); 519-362-0367 (cell)
or Board Chairman: Ken Swaving, ks@walinga.com
Applications to be addressed to:
Emmanuel Christian High School
c/o Principal Search Committee
680 Tower St. S.
Fergus, ON N1M 0B1
---
GUIDO DES bReS CHRISTIAN HIGH SCHOOL, HAMILTON, ON
2018/2019 Principal Position
The Board of Guido De Brès Christian High School is looking for an individual with proven leadership skills, a Reformed Christian worldview, excellent interpersonal skills and a vision for 21st century educational needs.
Guido De Brès Christian High School:
Has a growing student body of 410 students from Grades 9 – 12

Two experienced Vice-Principals (Academic & Student Services)

A professional staff of 40 individuals.

Offers a full secondary program to allow students to earn the necessary requirements for all post-secondary institutions.

Learning assistance and special education is available for students in all grades.

Variety of student extra-curricular activities including Art, Drama, Robotics Club, Outdoors Club, Orchestra, Drama and numerous sports teams.

An enthusiastic Student Leadership Team.

Is operating in the 2017/2018 school year with three Vice-Principals sharing the leadership role.
The ideal candidate must be a professed member in good standing of a Canadian Reformed Church, United Reformed Church or sister church. Qualified applicants are encouraged to submit their resume, philosophy of education, statement of faith and two letters of reference by October, 16, 2017.
If you are interested in this exciting opportunity, have any questions or would like further information you are encouraged to contact either the Board Chair, David Kampen at david@edengrove.ca or the Secretary of the Search Committee, Hilda Tiggelaar by email at hilda.tiggelaar@gmail.co
---
Rehoboth christian school, copetown, ontario
Invites applications for possible
Elementary Teacher, Secondary Teacher and Educational Support openings for the 2018/19 school year
We are looking for qualified individuals with a vision for Christian education to join our committed, vibrant community of learners. We are a K-12 parent-run school serving the families of four local Free Reformed Churches and beyond. Located on a beautiful rural setting between Hamilton and Brantford, RCS has been blessed with a strongly supportive community, and since our inception in 1978, have grown to an enrollment of 380 students. Please send a cover letter, resume, statement of faith, and references, including a pastoral reference (teacher applicants are also asked to include a philosophy of education) to the attention of:
Brian Kemper, Principal
198 Inksetter Road P.O. Box 70, Copetown, ON L0R 1J0
t. 905.627.5977 e. principal@rehoboth.on.ca w. www.rehoboth.on.ca
---